A serviced apartment is a fully furnished apartment available for both short-term as well as long-term stays,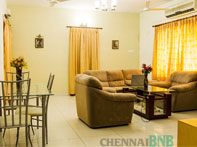 Welcome to one of the most comfortable lodging facilities in the heart of Chennai! We at ChennaiBNB Stays, true to our name ensure that you have an ChennaiBNB experience with us. For the benefit of our clients, we have chosen a location that has become the hub of Chennai's most developed areas in terms of facilities, hospitals, hotels, restaurants, offices, industrial estates, IT parks and fantastic neighborhood atmosphere in Nandanam.
What ChennaiBNB Stays Offers...
Shared Guest House
Designed exclusively for corporate executives on travel, these luxury chambers offer desirable option for short-term stay. Whether it's a single night stay or a week.

Serviced Residences
Tired of confinement of hotel rooms? Want a bigger space to breathe? Come and stay in our serviced residences, with space not just to breathe but to live. Enjoy a private stay in a furnished large living room, bedrooms and a fully-equipped kitchen.

Standard
2 or 3 BR Flat Resident of 2 or 3 BR flat enjoys a fully private kitchen, dining, living area with a master bedroom and a guest bed room. Ideal for project teams or organizations that are in the lookout for dedicated company guest house.